Overview
The Goodman Group's Burger & Lobster concept is a rapidly growing London-born brand with a distinctive personality. Ambitious expansion plans, including a global franchisee program, posed difficulties in scaling operations and maintaining brand consitency across their network of locations.

B&L came to us to build them a bespoke, cross-platform application to help streamline their operations and improve communication throughout the organisation.
The Challenge
With a hard-earned reputation to protect, Burger & Lobster needed to maintain brand consistency across all locations as they expanded. They envisioned a simple way of communicating between individual locations and HQ, allowing general managers to easily submit sales figures and order stock, all whilst helping project B&L's unique personality.

Existing software, such as Fourth Hospitality, didn't fit their requirements, providing both too much and too little. By choosing a bespoke app, B&L were able to maintain their all-important branding, keep functionality to the necessities and deliver the right information to the right people as simply as possible.
Our Approach
Frontend
In just 12 weeks we delivered a multi-platform web app that perfectly encapsulated Burger & Lobster's unique personality, complete with hand-drawn illustrations. Built on a modern development stack, the app is platform-agnostic so it can be used on any device or operating system, an important factor for the global operation.

Managers easily submit sales figures at the end of the day, order stock in a few taps and receive direct communication from HQ with the messaging system.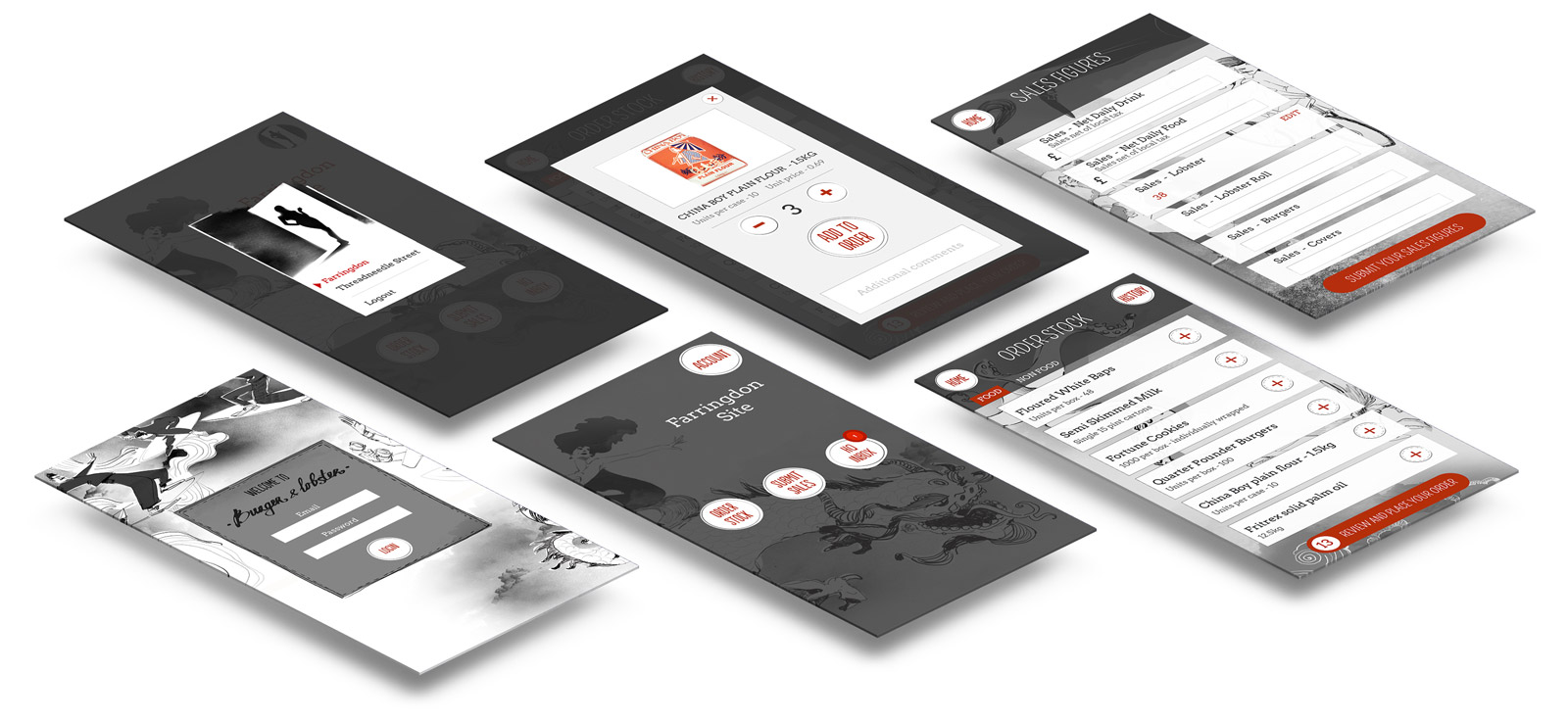 Backend
In addition to the user facing mobile application we built a web based admin backend for Burger & Lobster head office. In contrast to the complex existing off-the-shelf software products, we delivered a simple application highly focused on enabing head office users to manage the business efficiently.

Granular user permissions keep functionality and sensitive financial information in the right hands. Products for internal purchasing can be quickly updated with new pricing, min & max quantities and cut-off times for ordering. Sales information and reporting is always up to date and accessible, as managers are sent reminders to submit figures and confirmations when other members of the team submit on their behalf.


The Results
Burger & Lobster are now able to quickly open up new locations and franchisees with peace of mind. The application is used globally by multiple sites and we are preparing for stage 2; integrating further into Burger & Lobster's business systems, including their accounting package SAP.


I wanted to express my satisfaction from the work with BPL, You helped us to produce and amazing app in a very short and demanding schedule. Your professional agility and very friendly human approach means that we will be doing a lot of business together.
Start Your Project
Fill out your details and we'll setup a time to talk about your project, no commitments.