Cashless coffee ordered through your phone and ready for you when you arrive at your nearest Grind

---

Grind & Co.

Read More
About the project
There's little argument that good coffee is one of the better things in life. Some people swear that they can't even function until they've had their morning fix. But queueing for your coffee first thing can be an ordeal.
So when Grind, an independent forward-thinking coffee chain based in London, approached us with their vision of the future – a world where your favourite coffee is ready for you when you arrive at Grind – we jumped at the chance to make the world a better place for coffee-lovers.
The Challenge
Like most coffee shops, their busiest periods are in the morning and at lunchtime. Grind wanted to streamline the customer experience to reduce waiting time and increase their ability to serve more coffee during during peak periods. They wanted a system where you could pick your Grind, select your drink, pay in-app and collect in store. In essence, Grind wanted a seamless interaction between mobile ordering and payment and real-world coffee.
As well as mobile ordering, the Grind Black Card – Grind's exclusive loyalty scheme – needed to be incorporated into the new system. They already had a database of users but that needed to be in sync with both the app and the till system, Revel. On top of that, customers would still need to be able to use their physical Blackcard as well as their new digital one.
Our solution
We worked closely with Grind to capture the essence of their brand and build this in to the very fabric of the Grind App. This helped ensure the unique Grind experience wasn't lost when ordering through the app.
Using our own bespoke technology, we developed a mobile ordering system that integrated perfectly with Grind's in-store till system, Revel, minimizing the need for staff training. Orders are processed by the app, registered in the till and then forwarded straight to the Barista screen for making.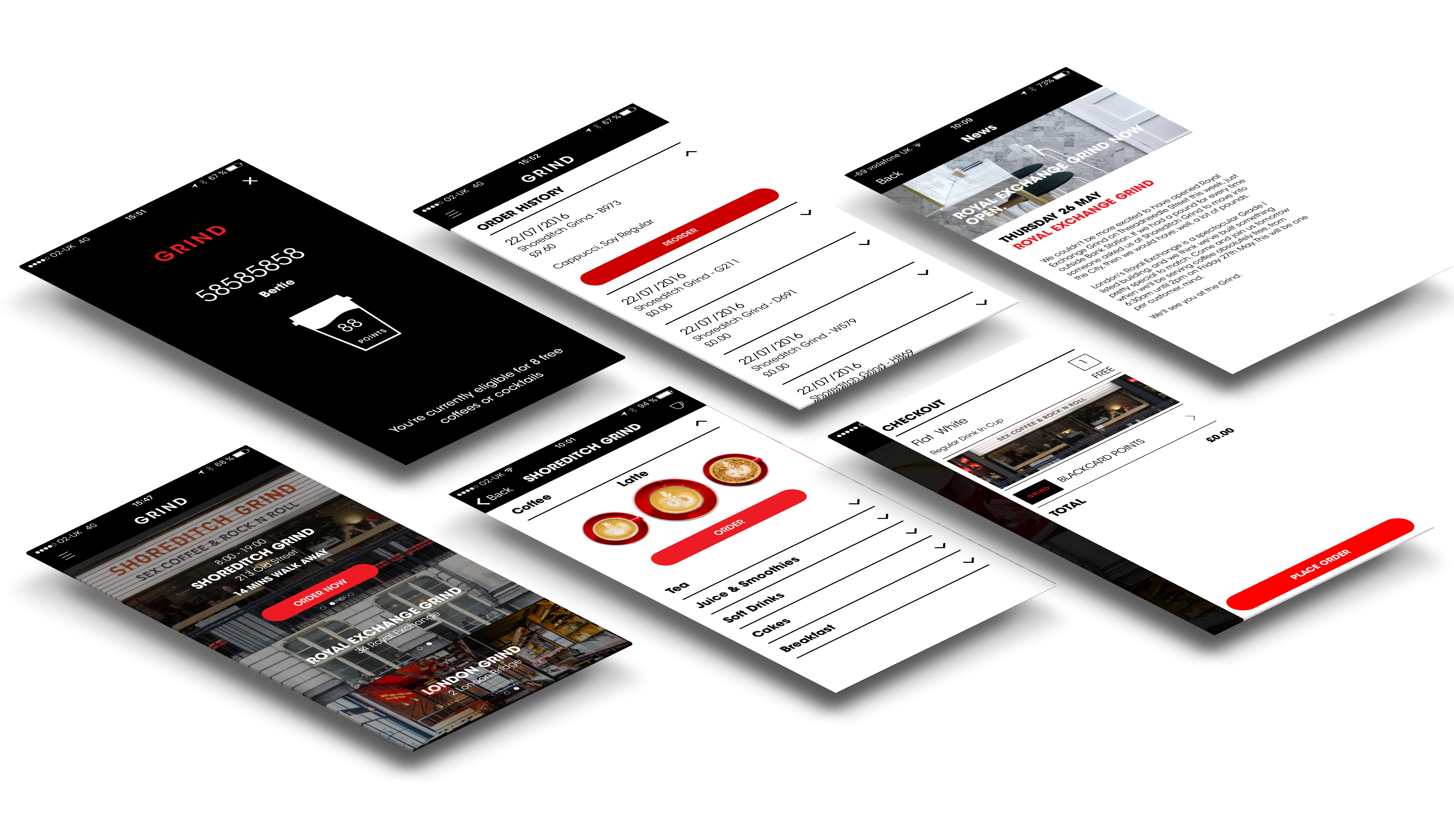 The Design
Tackling the primary goal of streamlining the order process, we designed the app so regular users can order their coffee in just three taps. We designed the user interface of the app to be intuitive so people knew exactly how to order their favourite coffee from first use and in-app instructions weren't needed.
The payment system is handled within the app through credit card, debit card, or Apple Pay, providing a seamless flow from coffee selection to coffee collection.
The Grind Black Card loyalty scheme was built directly into the app. Any customers with existing Grind Black Cards who download the app can link up their cards, whilst new users can create a digital one. With each transaction, rewards points are automatically earned. Once earned, they're redeemable through the app.
The Future
Grind is a company with a vision and embraces new technology whenever it gets the chance. The Grind App has laid the foundations for a wider digital strategy: a platform through which to engage their customers and add new features.


BPL Digital designed, built and delivered a beautiful app that really stands out from the rest of the crowd. It has streamlined our loyalty system, has the latest ways of paying built in and connects directly with our till system. Most importantly though, our customers love it!
Start Your Project
Fill out your details and we'll setup a time to talk about your project, no commitments.