Latest payment methods, increased ordering flexibility, and a tech-driven loyalty scheme

---

Le Pain Quotidien

Read More
Overview
Le Pain Quotidien (LPQ) is embracing a digital future. In a marketplace where customer attention is extremely valuable, LPQ wants to offer true value to its customers. This means integrating digital and physical touchpoints in cutting edge ways.

Having seen some of our previous work, they asked us to help them build this exciting digital future.
The Challenge
LPQ wanted to offer the latest payment methods, increased ordering flexibility, and a tech-driven loyalty scheme. The big challenge? Everything needed to connect with the till system and be managed from a single location.

The major issue we faced was integrating digital ordering with existing till systems. LPQ had tried to set up a digital ordering system before but hadn't quite managed it. So they came to us because of our success with the same till system when we worked with Rex and Mariano.
Our Solution
We built an app that delivered everything in a single place, acting as a central platform for the LPQ brand. It provides core functionality by improving the customer experience and acts as a place to strengthen ties between customers and LPQ. It is a gateway to all that LPQ has to offer, both digital and physical.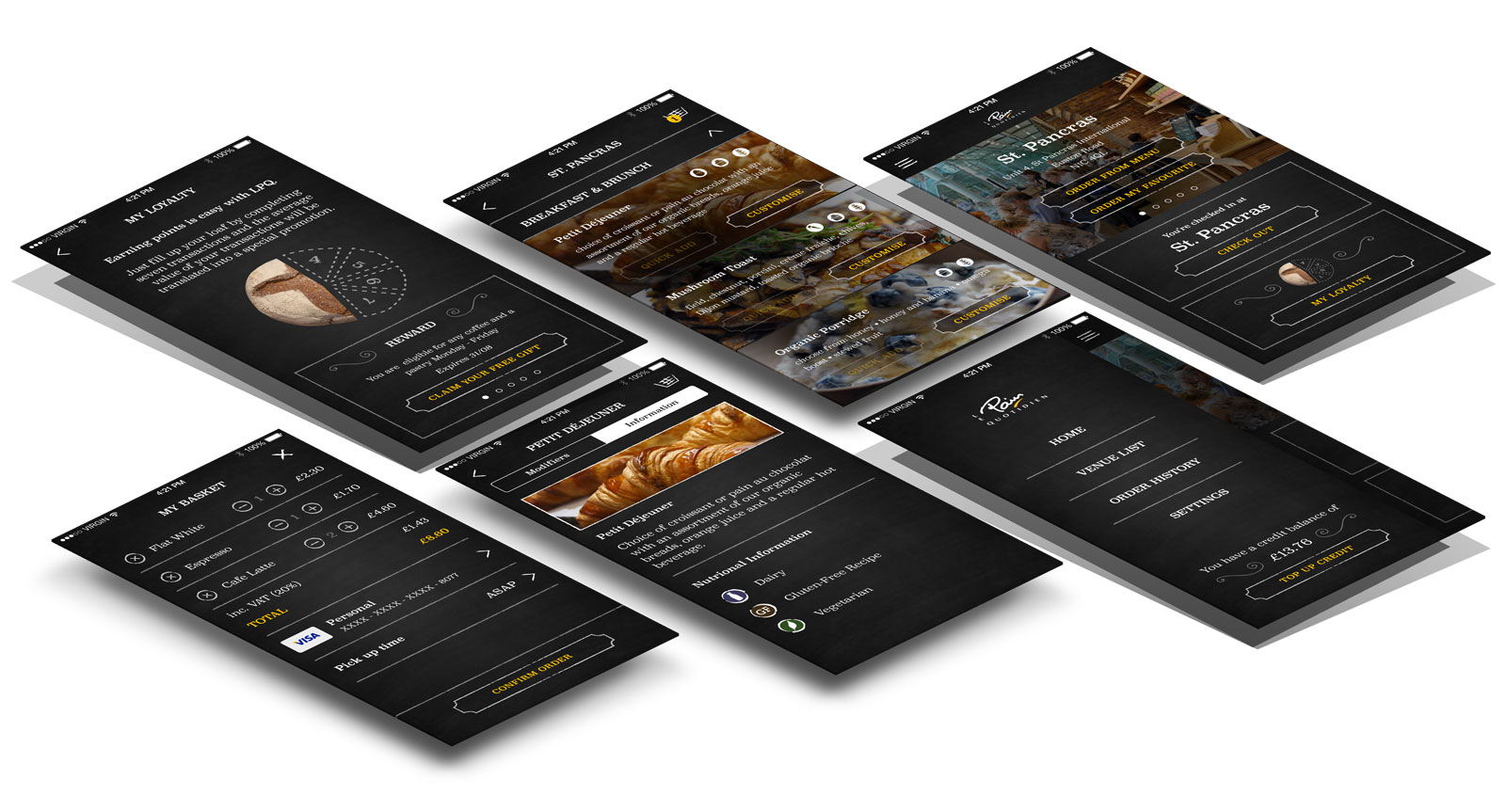 A central platform for cutting edge ordering and brand interaction From the home screen customers are able to:

• See their nearest store
• Order and pay for takeaway
• Track loyalty progress
• View order history
• Access information about different stores
• Get to know LPQ's philosophy
• Connect with LPQ through social media feeds

As a way of expanding the ordering and payment choices for customers, we developed two options within the app: 'dine in' and 'order ahead'.
Dine in
• Sit down and order your meal as normal
• When you're ready, pay your bill directly through the app
• No waiting for staff to bring your bill over
Order ahead
• Ability to place an order through the app before even setting foot instore
• Payment is taken in-app when the order is placed
• Choice of immediate collection or a specific time that suits you
Visual, digital loyalty
LPQ's new loyalty scheme aims to surprise and delight customers. After placing seven orders, customers are rewarded with a surprise item, free with their next order.

To help customers keep track of their orders, we designed a tracking system that lets people 'bake' a loaf of bread as they place orders. Each time they place an order, a piece of dough gets added to the loaf. When customers successfully place seven orders, they're rewarded with a whole loaf of bread.

This system gives people a visually engaging way of tracking their loyalty points. And it strengthens LPQ's brand identity – one of delivering wholesome fresh food and bread.
Staff credit
LPQ wanted improve its staff experience too. This meant replacing a cumbersome staff meal system that worked through gift cards and credit top ups. So, staying within the theme of a central platform, we built a new staff meal system directly into the app.

LPQ can now top up staff credit each week, which can then be tracked by staff in the app. If staff run out they can add credit themselves. All transactions are self-contained within the app and there's no need for manual, cumbersome topping up of staff gift cards.
Digital foundations
This single platform provides all the information or services staff and customers could ever need. And building this app gave us the opportunity to help LPQ create the foundations for their simple, wholesome digital identity.
Start Your Project
Fill out your details and we'll setup a time to talk about your project, no commitments.